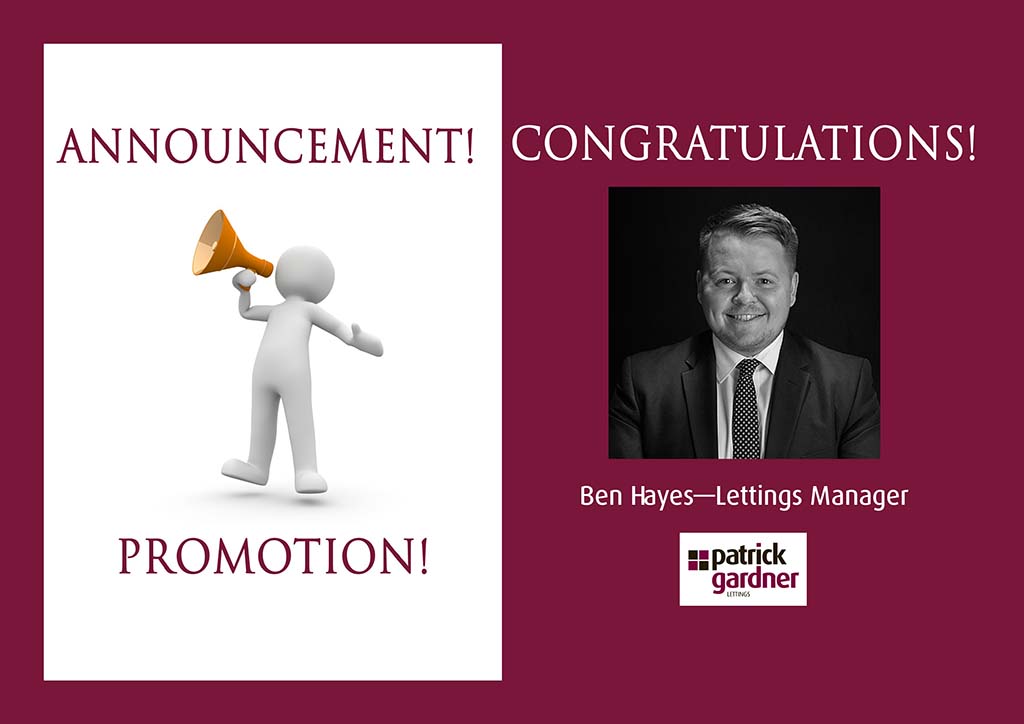 Patrick Gardner has a strong track record when it comes to promoting internal talent.  We significantly invest in our staff training and development, and pride ourselves on promoting from within.
It is with great pleasure that we are announcing the promotion of Ben Hayes to Lettings Manager of Patrick Gardner Leatherhead Lettings.  Ben has been with Patrick Garner & Co for five years, climbing the ranks with his dedication and commitment to his work.
Ben brings his extensive expertise and experience to his new role as Lettings Manager and will be responsible for managing his highly experienced and energetic team as well as continuing to provide excellence customer service in all aspects of Lettings.
"Ben has always shown initiative in his performance of his duties, going above and beyond what is expected of him, to ensure that Patrick Gardner Lettings delivers quality customer service.  It is well deserved and reflects his progress over the last few years.  I am sure he will settle into his new role quickly and will continue to take the company from strength to strength in his new position" says Nick Hutton, Director of Patrick Gardner Lettings.
During his days off, Ben can be seen on the football pitch as well as spending time with his family and friends.  Congratulations to him on his promotion!
Visit 'Our Team' to learn more about this great member of the team.